11 Jun

MintHCM 3.1.0 – new release

We are glad to see you come back for more mint news. And there are some exciting ones! The title probably gave it all away. So yeah, without further due – new MintHCM 3.1.0 is now available for download. As always, free of charge! Get right to it and see for yourself what's changed.

And if you're up for a little reading session, let's go through the latest features together.

A full list of them was published as Release Notes for MintHCM 3.1.0. Check them out if you need a broader perspective on what we are really introducing.
Multilingual HCM platform
True, it has been awhile since the last release. Our developers are working hard in so many projects, we were saddened to see MintHCM get a little less attention. Thankfully, the community stepped up!
Since MintHCM 3.0.8 we have seen two translations reach 100% on Crowdin. We are now happy to say it's a multilingual HCM platform, with a strong crowd of supporters right in the middle of Europe! You can now get to work with MintHCM in both Czech and Polish! What a truly remarkable thing for a young startup like ours. We hope to see the project become more and more popular and enrich the Employee Experience throughout many other countries. Thanks again to the community of MintHCM users!
Mobile app for mobile people
Another thing that happened, or actually – is about to happen, is MintHCM Mobile App.
We have officially started working on our own mobile application. And yes, it's still in the making, but we are able to show you the idea and some mock-ups already. Our mobile developers started working on a prototype.
If you'd like to get involved, please reach out, and we'll gladly share details about the project. For now, take a look at where it's going. We are really proud of the first touches. Best – check the short video below.
New release, "3.1.0" possibilities
We hope you can feel our excitement as it is now time to introduce a whole new version of our system. And it's labeled as 3.1.0 which means some noticeably significant changes, too. Let's dive right into it.
Kanban
One of the main improvements introduced in 3.1.0 is a useful kanban view in Tasks module. It helps to organize workflow and follow the stage of project development. You probably use something like that already. Now you have the ability to keep everything in one place, without switching applications. What a cool thing to get with a free solution!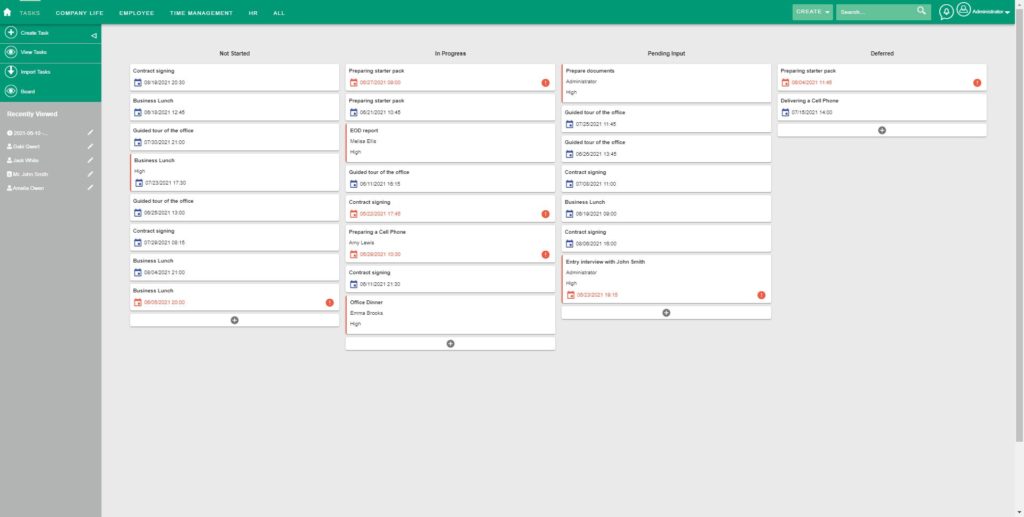 Workplace
Our latest development among features is called Workplace. We talk about it here a little more.
If you are not familiar with the feature, you should just know it's a thing that supports the hybrid way of working. Partly from office and partly from home or any other location. To us, it definitely feels like the "feature of today". Hence, our focus on the subject also in the latest version. If you agree, check it out in action by downloading the open source version of the software.
What was added to 3.1.0 release is a fix to the mechanism that now allows for adding rooms by relation.
Employess vs. Users
In 3.1.0 we put two types of records into a challenge. It is important to remember that users are different from employees and therefore require other type of authorization. We made it clear in 3.1.0 for a smoother record handling experience.
Reactions in the module News
We all like a good reactions feature, don't we? Social media got us hooked on that pretty fast. So we thought it could benefit MintHCM as well, if we provided such option also for our News module. From the 3.1.0 version you now get to comment in the detailed view of the record and express your opinion immediately, right on the spot while reading the announcement. Perhaps emojis next?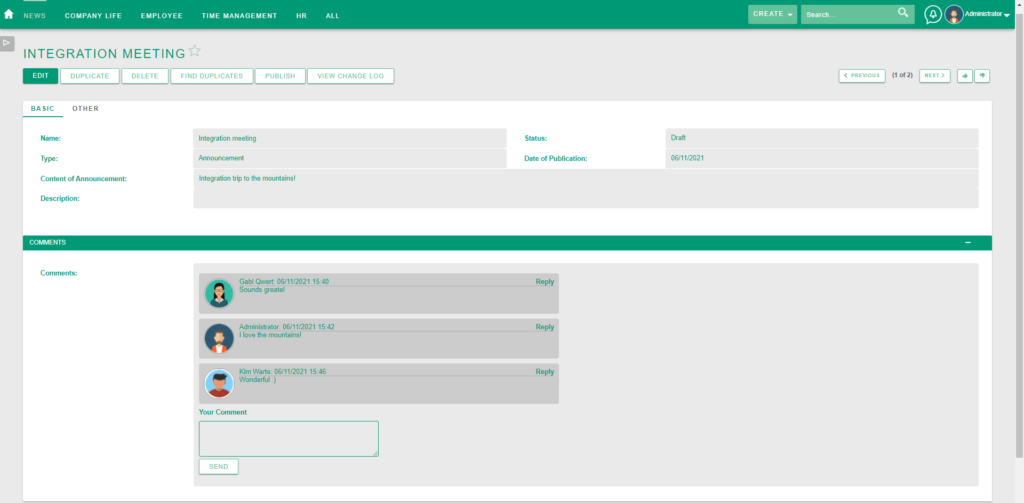 Bug fix: Saving work schedule without logged time

We often say that Time Management was the thing that inspired MintHCM in the first place. It is also one of the most developed areas of the software, so far. We could not forget to fix something in it also in this release. It was time to address the fact that 'till now it was possible to save a work schedule without any time logged in. No more of that! In order to confirm a day of work, you have to have some hours typed in first. Sounds fair, right?

---

We hope you like what you're reading and would like to see more. 'Cause there's more!
For a full list of new features and fixes, go to Release Notes page. There, you'll find all the minty fresh additions, waiting for you to explore. Let's just see some of them screenshotted below. Also, you can always try them out by requesting Demo access here. 'Till next time!

We hope you have a mint day!